Subscribe to American Miniaturist
American Miniaturist is America's favorite miniatures magazine. Our passionate editorial team is comprised of dedicated miniaturists who ensure each issue is full of wonderful projects of all skill levels, inspiring features, and the most useful mini news out there. You'll find plenty to inspire you, whether you're just starting out in the mini world, or you're an experienced miniaturist.



Subscribe Today
IMAG ACCESS
Get unlimited access to our entire available digital library when you either add the digital subscription to your print subscription or purchase seperately.
You can access the digital library from your desktop, tablet or phone 24 hours a day, 7 days a week.
Browse through literally thousands of projects, features and expert advice.
Download any content you desire for printing out or for archiving.
Search through our available back issues for the exact content you are looking for.
Access valuable back issues which are now out of print.
View Free Issue
Visit Website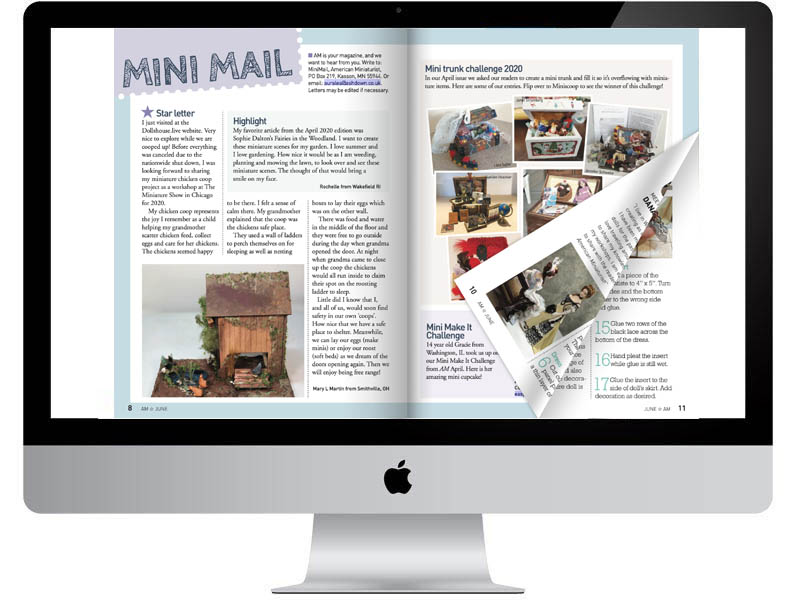 American Miniaturist magazine is produced 12 times a year. Annual subscriptions will be renewed automatically with payment taken from the credit card or Paypal account provided. Any cancellation after the annual renewal date will take effect the following year. Your credit card statement will show payments taken from Ashdown. Monthly subscriptions can be cancelled at any time and will be effective after a 30 day period. For the small print see see here